Multi-Client QMP Process Adoption Program
The Multi-Client QMP Process Adoption Program is a cost-and-learning-effective way for small firms to embrace and rapidly gain lift from adopting the QMP process. The multi-client format provides a supportive and mutual shared-learning experience for professional colleagues.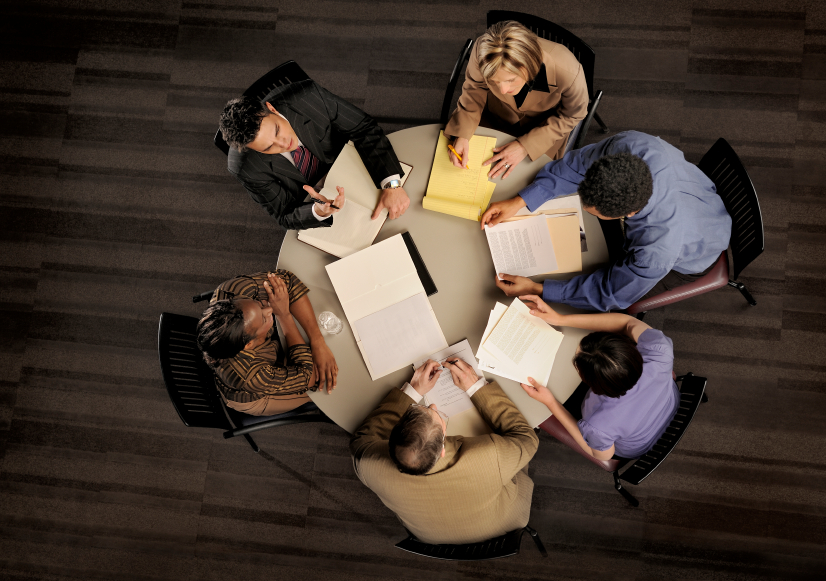 The QMP™ multi-client Marketing and Sales Excellence Program is a series of 5 interactive executive-team workouts whose objective it is to assist companies in the adoption of a world-class, integrated, cost-effective market strategy, business development, sales and performance management process. Executive teams, from as many as six non-competing companies, can participate. Each team typically comprises the CEO/Owner and his direct reports. The process encourages shared learning and the cross fertilization of ideas and experience between participating firms.
QMP™  helps each firm learn and adopt a set of rapid-impact skills, processes, tools and disciplines that have been proven to quickly accelerate both top and bottom-line growth. To assure rapid impact, learning is focused on your most pressing marketing and sales challenges.
Over a period of five months (1 workout day each month with homework and QMP™ support in between), your team will:
Re-assess and select the most compelling market strategy, target markets and competitive differentiation

Begin to think of products, services and channel capabilities in terms of economic customer value — assuring price-premiums

Evaluate competitiveness and formulate high-probability of success market penetration initiatives and business development activities

Learn to create cost-effective and compelling sales support materials and more cost-effective tactical marketing programs

Deploy a highly effective, disciplined and efficient sales, pipeline and account portfolio-management process

Deploy improved performance management disciplines including: initiative formulation and management, key indicator-of-success metrics and clear expectations, ownership and accountabilities
Program Content
Session 1 Content
QMP™ Process Overview – Market Strategy Formulation
Business Objectives, Barriers and Current Initiatives (exercise)

Preliminary Self-Assessments

QMP

™

Process Overview (tutorial)

Strategic Asset and Pivot Analysis (exercise)

Target Market Attractiveness Assessment (exercise)

Diffusion of Innovations (tutorial)

Channel Effectiveness Assessment (exercise)

Competitive Assessment (exercise)

Customer Engagement Modeling (exercise)

Target Market Strategy Creation (exercise)
 Session 2 Content
High-Impact Business Development Initiatives
Business Development Overview

Accelerating Adoption

The Customer Buying Model (exercise)

Thought Leadership

The Target Market Ecosystem

Business Development Tool Kit Creation (exercise)

Assessing the value, selecting and leveraging networks (tutorial)
Session 3 Content
Supercharging the Sales Process QSP™
The QSP

™

(Quality Sales Process) Overview

Pre-Qualification: Discovery & Fact-finding

The Customer Buying Process

Decision Maker Styles: Reading People

Building Trust and Credibility

Formulating Specific Account Opportunity Strategies (exercise)

Quotes and Proposals

Sales Pipeline and Account Portfolio Management

Market Intelligence: Gathering and Communicating High-Value Information
Sales strategies for current account opportunities will be worked on.
Session 4 Content
Execution: Process Deployment & Performance Management  
Self-Assessing the Corporate Culture

Managing an Initiative: The Basic Unit of Execution

Progress Metrics and Checkpoints

Expectations, Ownership and Accountability

The 11 C's of Getting things Moving

Recruiting Process

Decision Making

 
Session 5 On-Site
Individual Firm Work Session
An individualized, post-workshop, on-site work session is scheduled for each participating company to assist with the details of program deployment. Since all firms have company-specific circumstances, this work session provides situation-specific guidance in the refinement of strategy, priorities for business development initiatives, changes in channel programs, resource re-deployments and sales process discipline implementation. 
What clients say …
About the QMP Process … 

"The QMP process gets a company quickly focused on the best markets, shows you ways to get the most mileage from your marketing expenditures and provides a set of sales disciplines that cleans the dead wood out of the sales pipeline and moves the good accounts rapidly to closure."      CEO Software Company

About QMP™ Strategy Workouts …

"The QMP™ strategy framework allows us to quickly and effectively assess new opportunities. I was truly excited when I first became exposed to it four years ago and my use and enthusiasm hasn't diminished one bit." CTO, Medical Equipment Company

About QMP™ Market Strategy …

"QMP™ uses models that make quick work of mind-twisting strategic challenges. The approach is no-nonsense and quickly gets to the real issues. I have never worked with (a process) that can help think through strategic issues as efficiently and effectively." CEO; e-Learning Company 

About the QMP Sales Process …

"QSP™ is a disciplined sales process that anyone can learn and master. It teaches an invaluable set of skills and tools."  VP Sales, Technology Company
The QMP Marketing & Sales Engine