The QMP Foundational Marketing Methodology TM
The market success of any business depends on the performance and alignment of four key components: 1) the firm's Market Strategy (its value proposition, differentiation, target market and channel strategy), 2) its New Business Development initiatives (how and through which means it promotes and tells its story), 3) its Sales and Sales Management disciplines and 4) its Corporate Culture.  The QMP Foundational Marketing Methodology TM emphasizes getting those crucial components correct and aligned, before committing to expensive tactical marketing initiatives.
The QMP Foundational Marketing Methodology Model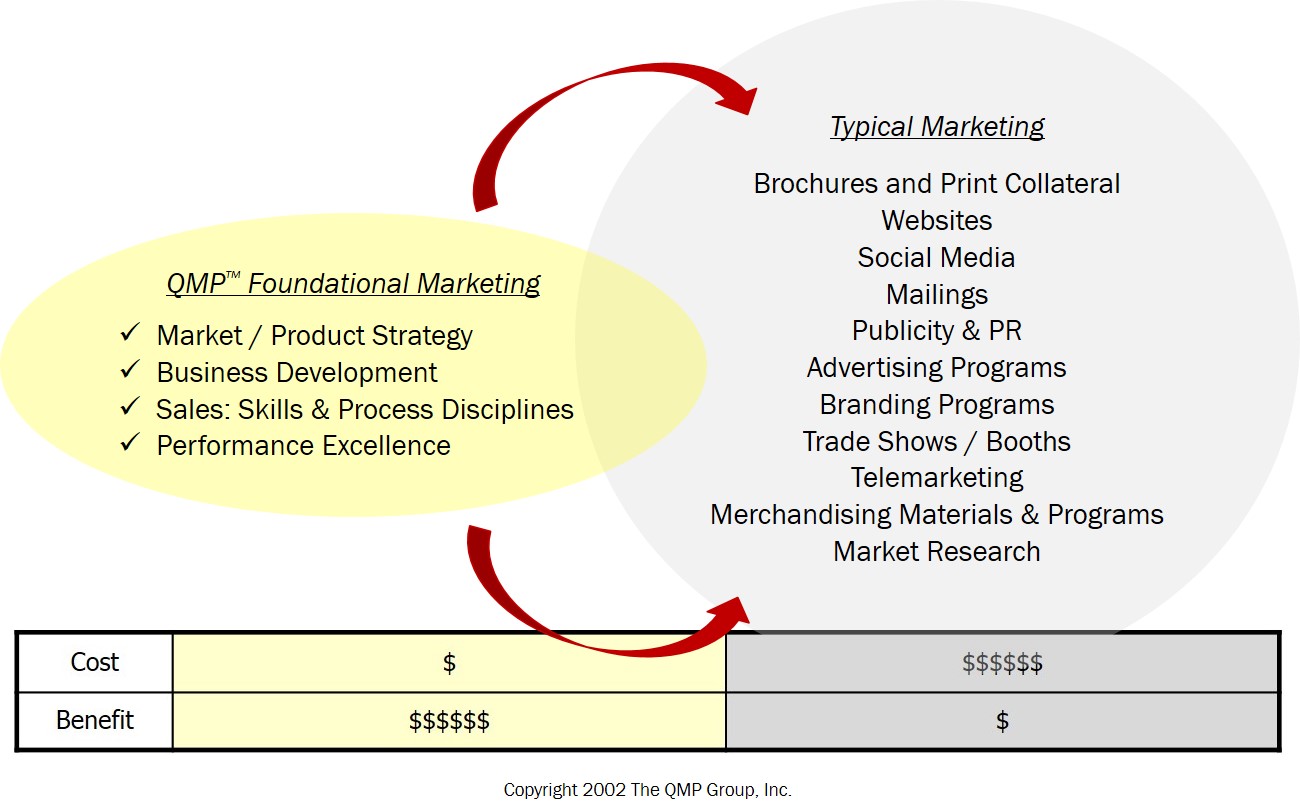 You have probably been assailed by marketing and sales gurus promising to deliver the magic pills of growth. First it was a simple Website, then SEO, then Social Media, Branding, Digital Marketing and now Marketing Automation. In fact, you may have been convinced, maybe more than once, to embark upon an initiative to "fix" all of your problems with one or more these approaches. If you are like most B2B businesses, it is unlikely that any of them blew the top off your business – and that you are still looking for the answers to the basic challenge of sustained growth. 
Why is that?
It's because those kinds of initiatives often overlook the basics. Marketing & Sales disciplines, tools and methods are the foundation of sustained business success. Great websites, SEO, social media presence initiatives cannot make up for a fundamentally poor value proposition or a fundamentally mis-targeted market focus or a fundamentally poor competitive position. They cannot paint over reality.
Typical Marketing vs Foundational Marketing:
What really creates consistent top and bottom-line growth is a consistent, high-performance Foundational Marketing Methodology TM. It's shown in the yellow oval to the left of the figure above. Foundational Marketing, compared to typical marketing is quite inexpensive and the primary ingredient of breakthrough success.
Results with Foundational Marketing
Foundational Marketing achieves remarkable results. For example, using QMP™'s Foundational Marketing methodology:
a software firm won 1,000 new clients in just a little more than 2 years

an electronics firm achieved a 50% growth rate for 6 years straight

a wholesale distributor increased sales productivity by 77%

the lowest performing sales region became the highest performing in two years

a medical equipment business was acquired for 145% of market value

and more
None of those breakthroughs required any significant expenditure in traditional grey-circle marketing programs. 
The QMP Group is all about transforming the way your organization thinks about and executes marketing and sales. When your organization understands Foundational Marketing – and begins to use its tools and techniques, both your probability of success and the return on investment of your marketing programs can skyrocket.
The QMP Methodology is Foundational Marketing
Once the components of Foundational Marketing are functioning, decisions on the appropriate tactical (typical) marketing initiatives and expenditures can be made – and they become much more effective. The results are higher return on investment, higher sales and profits, higher market valuation of your business – and a high performance organization.
Foundational Marketing generates real results
Foundational Marketing increases your business success.
Foundational Marketing increases the valuation of your business.
Foundational Marketing assures that your market strategy is sound, and that your execution team is operating at the highest levels possible.
Foundational Marketing significantly increase your Marketing & Sales ROI.
Foundational Marketing instills rigor and discipline in your Marketing & Sales process.
Foundational Marketing is fast efficient and effective.
Contact QMP to learn more about how Foundational Marketing can fundamentally transform your business, email us QMP1@qmpassociates.com, all us at 503.318.2696 or let us know about your challenges at our Contact Us page. Click to see how to Get Started with a QMP Marketing & Sales Transformation initiative.